In the very beginnings of the business of the new tourist boat Kremenik, one day on the Vrbnik tour we noticed that although we have a beautiful sea in front of us, a light breeze in our hair as we sail and a smile on our faces, that something is still missing. As we reached for a pre-purchased bottle of water from a nearby store and took a sip of that cold water, that ''aha'' moment came to us! We are missing our own caffé bar!
And so, in summer 2015 we opened Kremenik on board Caffé Bar for guests to enjoy that same sea, breeze and keep that smile on their faces.
While you are getting to your destination, you can sit back, relax, and sip your favourite beverage on Kremenik boat!
Kremenik boat will also operate according to recommendations from the local authorities and the following measures will be applied:
WHAT CAN I DRINK?
The Kremenik caffé bar offers a wide selection of refreshments to make your tour even more enjoyable.
Please be aware that due to local COVID-19 restrictions, caffé bar working hours can changed or be restricted to not selling alcoholic beverages. Also, the minimum age for the purchase and/ or consumption of alcoholic beverages is 18 years of age. Kremenik reserves the right to request ID prior to the purchase of alcohol and refuse the sale of alcohol to anyone. Guests are not limited to purchasing maximum. Guests on Kremenik boat are prohibited from bringing their own alcoholic beverages on board with the following exception - if so, agreed with the Captain of the ship, at private and agreed parties and trips it is allowed to bring their own alcoholic beverages. Please agree in advance with the captain on this exception. Liquor purchased on board can be taken home or outside the boat on tour destinations. While the ship is not sailing it is also forbidden to bring in and consume one's own drink.
CAFFÉ ATMOSPHERE
Kremenik caffé bar has a nice cosy atmosphere. It is not to big nor too loud and crowded. It is a perfect place where you can sit and relax by the sea while you are sipping your coffee. Local people often come with their friends and family to chat and relax after work or meet up just for a gossip.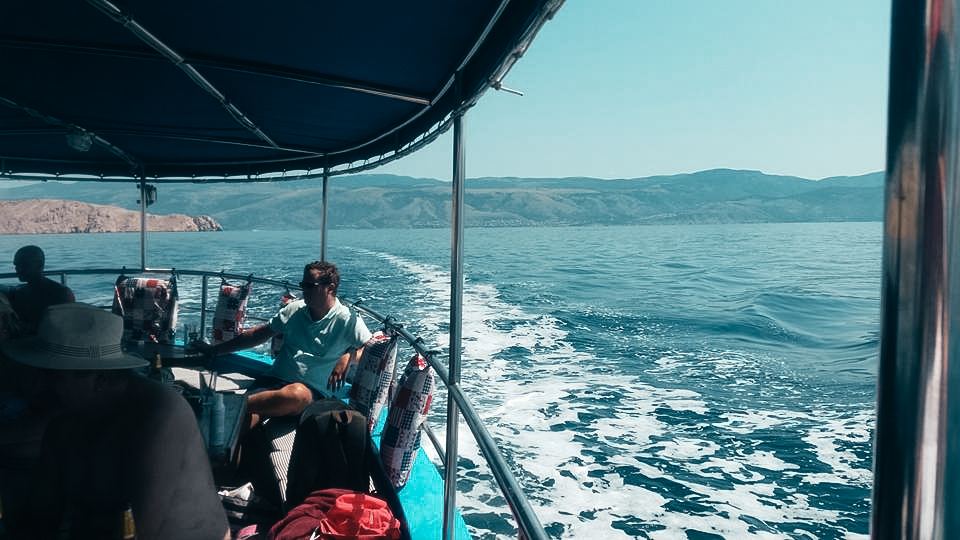 STAFF
Our staff members are trained baristas. A wide selection of fresh hot drinks are available, including various options for coffee, herbal, fruit and exotic tea and flavoured hot chocolate. A staff member will be always happy to answer any questions you may have about allergies or dietary requirements.
COFFEE AND HOT DRINKS
What kind of caffé bar would it be without this? And what kind of bar would it be without many options and flavours of hot drinks? A boring one, for sure. That is why Kremenik caffé bar offers a huge variety of this selections. Will you go for tall three colour coffee or short Italian espresso with a rich coffee aroma that stays in mouth for hours after? Or perhaps a nice cup of mint and lemon tea? The choice is yours!
ALCOHOLIC BEVERAGES
Kremenik boat is a perfect spot to drink some interesting and traditional alcoholic beverages. Whether it is a Croatian craft beer, wine, flavoured brandy, or sweet cocktail, one thing is certain – it is number one place to be in Klenovica during summer vacation with a seaside view.
COCKTAILS
The five basic cocktail flavours are sweet, sour, bitter, spicy, and salty. Together, these flavours combine and work to enhance or balance each other out. A cocktail can be made by anyone, everybody knows how to follow basic instructions, but a quality cocktail can be made only by a skilful cocktail artist. In this case, flavour alone is not enough to make a good cocktail, a good and quality cocktail has emotion, energy, and tension. That is why Kremenik boat is extremely proud of its cocktails that it makes, because they contain exactly those important and fresh ingredients. Which one is yours? Cold Mojito? Creamy Pina colada? Or perhaps sweet and sour Cosmo?
NON-ALCOHOLIC BEVERAGES
Whether you are cruising to you next Kremenik destination or just enjoying the local Klenovica atmosphere near the shore, you can always take a nice refreshment of favourite non-alcoholic beverages that Kremenik caffé bar offers.
FRESH SQUEEZED JUICES
Squeeze the most of life and fruit! Kremenik always tries to offer as large and varied range of fruits as possible. Freshly squeezed juice is sure to ease your hot summer days!
PRICES
We have successfully adjusted our prices, as well as the prices of tours, to the financial needs of our guests, making us one of the cheapest caffés in Klenovica and around. It is up to you to visit us and try it out for the final grade! If you are still not sure about this, check out the price menu 2021 bellow:
NEW TERRACE OF KREMENIK CAFFÉ
We have opened a new outdoor terrace of Kremenik Boat caffé for you. Look for us on the outer waterfront under blue sun umbrellas and a beautiful first row sea view!
We cannot wait to make a toast with you for new adventures and friendships!